Jennifer Jones' school day started with her standing in front of her class of third-graders at Harford Heights Elementary, and it ended with her flat on her back in the East Baltimore school's hallway.
She lay there surrounded by colleagues and students at dismissal time, injured by a boy who grabbed her leg and pulled it out from under her. His resolute stare, she says, was as frightening as the assault on that day in January 2013.
Soon she was on a stretcher, headed to Johns Hopkins Hospital, hoping she would not be paralyzed.
Jones is one of hundreds of city educators whose violent and traumatic encounters with students have led them to seek — and often receive — compensation for mental and physical injuries, a Baltimore Sun investigation of workers' compensation claims has found. Those claims provide a behind-the-scenes look at violence that is rarely documented in school system reports.
School employees report more injuries than those in any city agency except the Police Department. In the last fiscal year, more than 300 claims were related to assaults or run-ins with students — more than a third of the school system's total claims.
And such claims are costly. School employees account for an estimated total of $4.6 million in medical bills and other costs related to workers' compensation claims in that year, according to records obtained by The Sun in a Maryland Public Information Act request.
For officials in city government, the school system's claims signal a troubling pattern of teachers being attacked or serving as buffers in fights.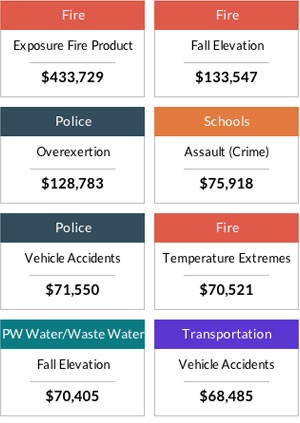 For teachers like Jones — whose workers' compensation payout will total an estimated $20,000 — the claims reflect a part of the job that leaves them feeling less like educators and more like punching bags.
"Every day it hurts like hell, and my life is forever changed," said Jones, 31, who remains out of work and is fighting to obtain other benefits. "I can't walk my dogs. I can't do laundry. You eventually start to give up on the dishes. Every time I think about it now, I think the same thing when I was laying on the floor: Why?"
The school-related payments are a significant part of a large and growing expense for taxpayers, who foot the bill for workers' compensation payments for medical bills, lost wages and permanent disabilities that can stretch for years.
Local governments and insurance companies in Maryland blame high costs on a variety of factors, including fraud, a higher ceiling on payouts and changes in state law that favor public safety workers.
Baltimore spent $49 million last year on workers' compensation awards, a steady increase from $44 million two years earlier, even as the city's workforce shrank, and officials expect those costs to rise for the next decade. In addition to payouts for new and old claims, the costs include fees for attorneys, private investigators and the company that administers the city's program.
For area counties, the expense is far lower but still reaches millions of dollars each year. Baltimore County, whose workforce is slightly smaller than the city's, paid about $11 million last year.
Baltimore's budget director, Andrew Kleine, said the city is considering major changes, including a push to limit costs by reducing payouts for workers who are absent because of injury. Outside auditor KPMG estimates that Baltimore's workers' compensation system owes $161 million in current and future costs, up from $146 million last year — money it has not set aside.